Meet Our Donors
We thank all of the members of the Access Living Legacy Society for their generous support. Here are some of their stories.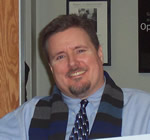 Henry T. Chandler Jr.
After being introduced to Access Living, Harry flourished into a cherished and active member of the Chicago philanthropic community. Harry first learned about Access Living through his involvement with the Rehabilitation Institute of Chicago. Harry's interest in helping others made him a natural fit in the Access Living Community. After some persistence on the part of Access Living's President & CEO, Marca Bristo, Harry joined the board in 1996. From 2003 to 2008 Harry served as Board Chair, and from groundbreaking to ribbon-cutting he spearheaded the successful Capital Campaign to build our universal and green designed permanent home on Chicago Avenue. Harry continued to serve on the board until the end of his life.
Harry's father recalls that Access Living gave Harry the self-confidence he needed to discover that he could make a difference in the lives of others. "Harry was an intelligent, bright person concerned about other people and Access Living helped to focus those talents and gave him a greater sense of self." It was his involvement with Access Living that set his advocacy in motion; he later joined the boards of the ACLU of Illinois, Openlands, Crossroads, and served on the Advisory Board of Chicago Community Trust's People with Disabilities Fund, bringing his message of inclusiveness with him. He also was a strong representative of the disability community on the Chicago Transit Board.
The connection and inspiration he gained from Access Living led Harry to leave a portion of his estate to the organization. After Harry's memorial was held at Access Living, his mother and father remembered Access Living's contributions to his life, "There is no way we can thank you enough for what you have done for Harry. Our hope is that you can do the same for others that come your way." Harry's parents, step-daughter, and cousins remain involved with Access Living to this day.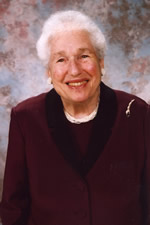 Beatrice "Buddy" Mayer
Buddy was involved with Access Living for more than 20 years. Buddy was first introduced to Access Living when after surgery she asked other patients at the Rehabilitation Institute of Chicago what services were available for people with disabilities in the city of Chicago. They referred her to us. After hearing about Access Living, Buddy reached out and had lunch with the CEO, Marca Bristo, to learn more.
Buddy felt fortunate to be able to afford the assistance that enabled her to live independently with a disability. She decided she wanted to help others do the same. Shortly after hearing about Access Living, she became a board member and supporter. Buddy remained involved in Access Living until her death. She was a longtime and generous supporter, including donating to the Capital Campaign to build our universally designed and LEED Gold Certified office building, attending our annual galas, and serving as an active member of the Board.
"Once you have a disability, you become more aware of people with disabilities whether you know them or not. I just try to help people to the extent that I can." Accordingly, Buddy remembered Access Living in her charitable giving. "Now or later, disability affects everyone in the community and society."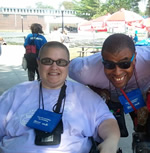 Garland and Heather Armstrong
Garland first learned about Access Living while attending Access Chicago, and from there his involvement never stopped. Excited about the opportunity to enroll in our financial literacy class and learn about becoming financially independent, Garland immediately signed up to receive information about Access Living's other programs and services.
Since graduating from the financial literacy program, Garland has remained heavily involved with Access Living. As a member of Access Living's Disabled Americans Want Work Now and Power to the People organizing groups, Garland advocates for disability rights with enthusiasm that inspires others to become involved. Garland believes that Access Living's work is important because we "help people to understand themselves, build themselves and do things for themselves" and he describes the environment as a "great place to meet more friends with disabilities."
Garland and his wife Heather both believe in the significance of helping people with disabilities learn about the resources available to them and the power of sharing this knowledge with others. "We really believe in the positive impact Access Living is making on the lives of people with disabilities, which is why we chose to leave a gift in our will. We want to be a part of helping others for years to come."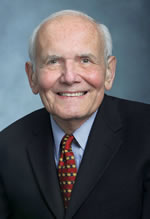 Maurice "Maury" Fantus
A successful businessman and active member of the Streeterville Organization of Active Residents, Maury had always been a prominent leader in the community. Since becoming involved with Access Living in 1992, Maury described his life as having been enriched. Through supporting an organization that has affected his life and the lives of others, Maury expanded both his network of friends with disabilities and his opportunities to help others.
Over the years Maury played a huge role in the implementation of Access Living's employee assistance program and retirement program, and also served on Access Living's Board of Directors for many years. During his time as a board member, Maury served on the Capital Campaign Committee, Resource Development Committee, Program Committee and Finance Committee. When reflecting upon his decision to make a planned gift, Maury said, "I served on the Finance Committee for six years during my time as a board member. Access Living is a well-run organization. I feel confident that their financial house is in order and that my investment will be well cared for and utilized."
Maury always stayed heavily engaged in the Access Living mission. "The organization has led innovative changes that have made a large-scale impact increasing inclusion for people with disabilities throughout Chicago. In addition to these changes Access Living has provided much-needed services to thousands of people with disabilities. I am proud to be a longtime supporter."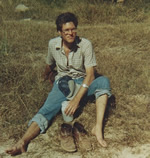 William "Will" French
Access Living opened a new chapter of growth and inclusion for Will. He had long since exhausted the programs available to him through another organization and was convinced he could accomplish far more with help. At age 43, Will had experienced both the highs and lows of programs available to the disabled. He flourished in some, aged out of some, and experienced huge setbacks in others.
Will was first introduced to Access Living in 2008 and he soon became involved in our Stepping Stones Program, a peer support group for individuals who recently moved out of long term care facilities and into their own homes. Then and now, the Stepping Stones curriculum emphasizes disability pride, teaches the history of the disability rights movement and the rights guaranteed to people with disabilities, and equips program participants with computer skills and knowledge of financial resources and the healthcare system.
Will's sister Diana recalls that Access Living's personalized services made him feel included and important. "Will's engagement with Access Living was a significant turning point in his life, empowering him to speak proudly and confidently about things he knew how to do." After completing the Stepping Stones Program, Will was asked to become an Access Living volunteer.
Although Will was battling terminal cancer and was unable to volunteer, his sister recalls that simply being asked meant the world to him. Access Living's positive impact at the end of Will's life is the reason why Diana donated a portion of Will's Charitable Lead Trust to Access Living. "I believe that Access Living makes a significant impact in the lives of people with disabilities. If we had heard about Access Living sooner, they would have been able to have an even greater impact on Will's life."